Supporting young doctors studying abroad who will bear the future of nuclear medicine
This fellowship was established in 2008 to provide the opportunity to study abroad for young doctors engaged mainly in nuclear medicine care for the purposes of developing personal connections acquiring international ways of thinking and fostering experienced leaders of the next generation.
A total of 23 doctors (as of December 2014) have learned about the recent topic of molecular imaging in addition to radioactive diagnostics and therapies (heart central nervous system tumors) at research institutes around the world famous for their leadership and initiative.
Hoping that these young doctors will contribute to the continuous development and popularization of nuclear medicine scanning in the nation as a leader bearing the future of Japan Nihon Medi-Physics is fully providing support for them.
*

Molecular imaging: The capture of various vital phenomena occurring in a living body from outside the body and visualizing it on a molecular level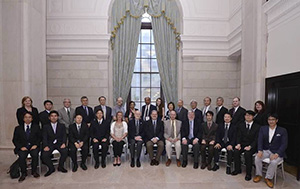 2014 Wagner-Torizuka Fellowship Banquet in St. Louis