Major conferences
Every year Nihon Medi-Physics organizes the New Town Conference (NTC) for nuclear cardiology and the Brain Function Imaging Conference (BFIC) for neuronuclear medicine as nationwide conferences. A number of medical specialists active in nuclear cardiology and neuronuclear medicine (almost 1000 people in each) participate in the conferences to energetically discuss various topics. After the conference records and DVDs of the conferences are published to provide information to more specialists.
Conference of neuronuclear medicine
Records and DVDs of the conference
Exhibitions
We prepare a booth at the exhibition venue located next to the medical conference to provide promotional activity for specialists in specific fields attending the conference. In the booth we display stand-up banners about SPECT/PET scans to provide specialists with academic information about nuclear medicine useful for clinical purposes and provide other information on how to properly use our products. Thus Nihon Medi-Physics is contributing to improving the quality of medical care.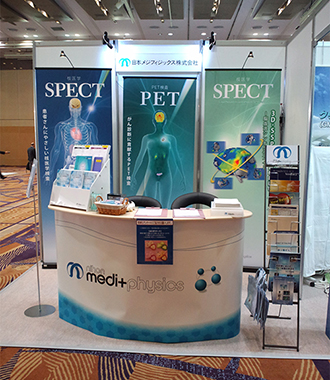 Exhibition booth at the Japanese Society of Nuclear Medicine