Elimination of cancer-care disparities
As of April 2013 397 hospitals in Japan have been authorized as Designated Cancer Care Hospitals so that patients can receive high-quality cancer care anywhere in the nation. FDG-PET scan is an essential test for cancer care because it is covered by medical insurance when diagnosing the stage metastasis and recurrencer of malignant tumors (except early-stage stomach cancer) and recommended by many treatment guidelines. Nihon Medi-Physics contributes to eliminating cancer-care disparities by delivering the FDG scan injectables all over the nation.
*Elimination of cancer-care disparities: Filling the gaps in medical techniques so that everyone can receive standard special treatment anywhere in Japan.
Standardization of contrast-enhanced FDG-PET scans
The working group of "Establishment evidences and a standard protocol for contrast-enhanced FDG-PET/CT scans" of the Japanese Society of Nuclear Medicine (Dr. Munenobu Nogami Dr. Yuji Nakamoto Dr. Ukihide Tateishi Dr. Kazufumi Suzuki Dr. Setsu Sakamoto and Dr. Kazuhiro Kitajima) has planned to publish a handbook useful for doctors technologists and nurses working in the facilities considering new introduction of contrast-enhanced FDG-PET/CT scans.
Nihon Medi-Physics has produced/edited the handbook jointly with the working group to distribute to doctors who want it.
*Contrast-enhanced FDG-PET/CT scan: A test that can obtain a PET-CT image with narrower location gap by sharing the bed with PET and CT devices placed coaxially.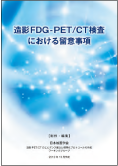 Handbook jointly produced with the working group
Proper use of delivery PET and quality improvement
The delivery PET committee a PET nuclear medicine subcommittee of the Japanese Society of Nuclear Medicine (chairperson: Dr. Tsunehiko Nishimura) was established to examine and resolve various problems regarding facilities using delivery PET agent. Nihon Medi-Physics has been supporting the subcommittee's activities as an observer from its establishment. The number of facilities registering as main members of the committee has increased from 16 to 77 from April 2008 to March 2012. During that time the committee: 1) conducted surveys by questionnaires on the current situation (first general survey: 93 facilities answered second survey on delayed imaging: 125 facilities answered); 2) produced and distributed the delivery PET agent user's handbook (first edition: 13000 copies revised edition: 8000 copies); 3) evaluated image quality during low dose imaging (visual and quantitative analysis of PET images by Miyazaki University); and 4) sponsored the delivery PET liaison council. Currently the committee has suspended its activities but will resume them as required when new drugs including an amino acid imaging agent (development code NMK36) obtains approval or when dementia diagnosis by FDG-PET is covered by national health insurance.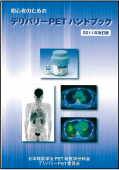 Delivery PET agent user's handbook
Pursuing Evidence-Based Medicine (EBM)
Nihon Medi-Physics supports multi-facility joint research to establish EBM.
In the diagnostic nuclear medicine field we are supporting research contributing to the selection of treatment methods for patients and in brachytherapy we are supporting research regarding the therapeutic effects and prognosis in prostate cancer.
Through support for various kinds of joint research Nihon Medi-Physics continues to achieve our corporate mission of "contributing to a better and happier society through our business operations in the healthcare field."