Nihon Medi-Physics was established in 1973 for the purpose of domestically producing radioisotopes used in medical procedures which had been imported. Closely working with medical care providers including physicians and technologists Nihon Medi-Physics has actively improved the technology and developed a wide range of products achieving remarkable breakthroughs in nuclear medicine.

In 2005 we started distributing a PET diagnostic in addition to our core products for SPECT opening up new possibilities of diagnosis. We are also actively engaged in expanding into the field of radiotherapy by taking advantage of our wealth of knowledge and experience in radiopharmaceuticals.

In February 2009 the Ordinance for Enforcement of the Veterinary Practice Act was revised and we took this opportunity to enter the market for veterinary medicine. We are now contributing to bone scintigraphy for horses and RI imaging (limited to Tc-99m and F-18FDG) for dogs and cats.
Diagnosis (SPECT / PET diagnostics business)
Diagnostic nuclear medicine imaging is intended to obtain diagnostic information from various aspects ranging from morphological imaging to determination of organ function. Nihon Medi-Physics has a wide array of radiopharmaceutical products to accommodate various diagnostic needs enabling high-precision diagnostic imaging of heart disease cerebrovascular disease malignant tumors etc. to provide more accurate information on disease conditions.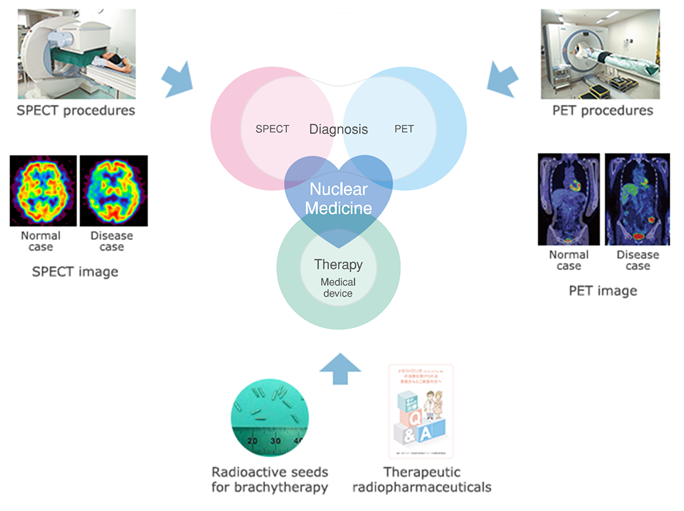 SPECT diagnostics business

SPECT (Single Photon Emission Computed Tomography) is a nuclear medicine procedure using a radioisotope (RI) as a tracer to locate affected sites in the body and to examine the state of organs on the tomographic image formed from the collected signals. Since our establishment SPECT diagnostics have been the core business that sustained Nihon Medi-Physics in a leading position in the radiopharmaceutical industry.
PET diagnostics business

PET (Positron Emission Tomography) is a diagnostic nuclear medicine procedure like SPECT but uses a radiopharmaceutical product labeled with a positron-emitting type of radioisotope (RI).

Owing to the extremely short half-lives of radioisotopes used for PET procedures i.e. up to about two hours Nihon Medi-Physics has established a nationwide network of production facilities to ensure the stable delivery of PET diagnostic agent. Thus we enter into PET diagnostics business which is now positioned as the second pillar with SPECT diagnostics.
Therapy (Radiotherapy business)
Ultimate goal of medical care is to treat disease and improve people's health conditions. We have developed our experience and know-how in diagnosis to realize new possibilities for nuclear medicine in therapeutic technology and products.