We are surrounded by an environment that is changing greatly and drastically.

Meeting the demands of our ever-changing society swiftly and flexibly Nihon Medi-Physics is committed to corporate social responsibility (CSR) by fully implementing the corporate vision expressed in the corporate credo to fulfill the company mission.
Company Mission
Our mission is to serve people's health and welfare through our business operations in the healthcare field as well as to contribute to a better and happier society.
Corporate Credo
(Promulgated on March 20 1988)
1.Our customers come first so we must ensure the highest quality in everything we offer.
2.We contribute to society by providing reliable sound services in a professional manner.
3.We meet emerging global needs by developing innovative new technologies.
4.We emphasize employee training and education both for personal growth and for continuous development of our operations.
Corporate mark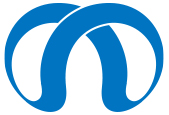 The corporate mark of Nihon Medi-Physics is designed based on the company vision of "developing new products supported by a variety of interdisciplinary research technologies of advanced science and establishing a reliable distribution system." It expresses vividly advancing technology and secure confidence that is the theme of "high technology and heartfelt humanity." The mark is a combined design of "m" from medi+physics and the infinity mark "∞" which symbolizes endlessly challenging infinite possibilities from a viewpoint that is always fresh.

The blue corporate color expresses the image of cleanliness and vivid advancement of the medical field where Nihon Medi-Physics serves the enhancement of nuclear medicine by improving technologies and developing new products ever aiming toward endless development of our business.