As the leading company in the radiopharmaceutical industry, we will contribute toward building a sustainable society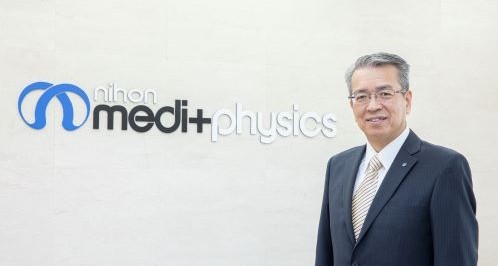 Nobuhiko Tamura, President
Nihon Medi-Physics has contributed to society for nearly half a century through research, development, production and stable supply of radiopharmaceutical and related products. By constantly taking fresh perspectives, we continue to provide appropriate solutions to emerging medical needs that have become more and more diverse, in order to win trust from society for many years to come.
Since 2018, we have been carrying out the Medium Term Management Plan and pursuing growth strategies in three focused areas, namely, "Theranostics," "Digital" and "Asia." In particular, with the concept of combined diagnosis and therapy, Theranostics seeks new value for society by providing optimal healthcare solutions to individual patients. Thus, we take on challenges in this new area while developing our existing business in the diagnostic field in order to efficiently deliver better healthcare solutions to each patient.
With the progression of an aging society and social structure diversity, healthcare issues are changing with increasing speed and breadth. As a company specialized in improving people's health, our goal is to solve these issues to build a sustainable society.
We will fully utilize our extensive expertise and experience, cultivated over years as the radiopharmaceutical market leader, to meet the expectations of patients and other stakeholders. We appreciate your continued understanding and support.