We contribute to solving difficult healthcare issues using molecular imaging technologies
Nihon Medi-Physics has been contributing to society through useful healthcare products that utilize the unique features of radioisotopes. Based on our mission of ensuring a stable supply of high quality products as well as continuing to develop new products and technologies that meet medical needs our ultimate goal is to be a company that is always trusted by our stakeholders.
Advances in medical technologies have acted as a constant driver for changes in the healthcare environment. Our core business consists of the nuclear medicine scan known as SPECT and PET which are molecular imaging procedures. Molecular imaging captures and visualizes slight changes that occur inside the body thus demonstrating extensive potential for challenging medical issues. In particular a PET scan is an essential tool for the latest cancer treatments. Nihon Medi-Physics obtained approval for the first radiopharmaceutical agent for the PET procedure in Japan in 2005 and ever since we have been distributing this agent to medical institutions nationwide. In 2019 we opened an eleventh PET agent manufacturing site to further strengthen the product distribution network to ensure a stable supply.
Moreover by leveraging the experience and know-how cultivated in the manufacturing and distribution of radiopharmaceuticals we recently diversified into contract businesses to promote the PET imaging procedure as a drug development tool in both non-clinical and clinical stages. Also as an R&D oriented pharmaceutical company we are actively engaged in the development of new products and expansion of our product line.
Fully utilizing our strengths with all our effort we will continue to explore more possibilities to help as many patients as possible achieve better outcomes for themselves and their loved ones. We would highly appreciate the continued understanding and support of our stakeholders.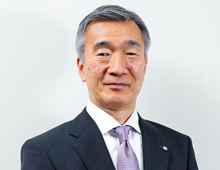 Hisashi Shimoda, President